IBM Client Application Access (ICAA)
The lightweight solution for accessing your IBM Notes and IBM Domino applications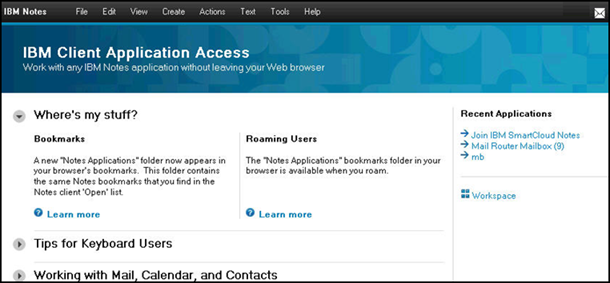 IBM Client Application Access (formerly known as IBM Notes Browser Plug-in) offers a lightweight solution for accessing your IBM Notes and IBM Domino applications. For clients who want to move to a browser-based interface for email (IBM SmartCloud Notes web, or IBM Verse), while continuing to work with existing Notes and Domino applications on-premise. This complete solution helps end users work efficiently, benefiting from all the new capabilities of IBM SmartCloud Notes and IBM Verse, with easier access to applications.
IBM Client Application Access delivers the following features and benefits:

– Enables users to access Domino Applications without using the full IBM Notes client.
– Lowers resource consumption.
– Enables you to work with your existing Notes and Domino applications unmodified.
– Requires no retraining for users, and saves your organization from costs associated with rewriting existing applications.
– Offers a simple, quicker installation and setup at less than 80 MB.
– Includes auto-update mechanism to reduce your administration overhead for subsequent updates, ensuring you always stay on the latest version of the product.
– Enables support for launching mail and forwarding documents using web interface due to its seamless integration with IBM Verse and IBM SmartCloud Notes web.
– Enables end users to launch a Notes application link from their SmartCloud Notes web or IBM Verse email in the IBM Client Application Access Client instead of IBM Notes
– Uses system-installed JVM for applications that require JVM.

IBM Client Application Access

– Extends reach of applications previously available only to Notes users.
– Enables applications to run with no modification.
– Delivers lightweight installation, similar to other plug-ins in size, deployment, and configuration.

Want to know more why not Contact Us and we would be happy to help