IBM WebSphere Cast Iron
Rapid Data Integration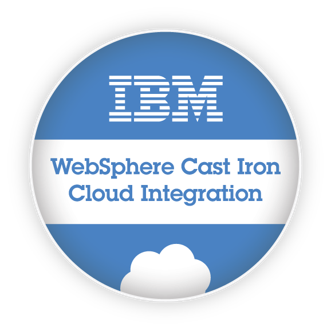 The WebSphere Cast Iron Integration product portfolio is a platform that can enable rapid, no-coding construction of integration among SaaS applications, on-premise packaged applications, custom applications, and generic systems such as databases, files, and web services. The key features and capabilities of Cast Iron Cloud Integration services are:
Pre-built, rich connectors to applications, especially to enterprise-grade packaged applications, such as large enterprise resource planning (ERP) and customer relationship management (CRM) applications: A connector enables you to connect to the targeted application and access the content of the application in a no-coding manner.
Simple user experience: The Cast Iron portfolio provides rich capabilities in transformation, integration logics, and integration management. It can also provide infrastructure for custom connectivity and reuse of integration best practices. This infrastructure can provide a no-coding, highly usable user experience.
Support for a wide range of integration paradigms: The Cast Iron portfolio includes process integration, data integration, UI mashups, and combinations.
Flexible deployment options: Capabilities can be accessed in three form factors, which are designed to be easy to access and use:

Virtual appliance: WebSphere Cast Iron Hypervisor Edition
Physical appliance: WebSphere DataPower® Cast Iron Appliance XH40
Multi-tenant cloud service: WebSphere Cast Iron Live and Cast Iron Express®
Want to know more click here for Cloud SaaS or here for on Premise
If you require any further information about IBM WebSphere Cast Iron Talk to Kelros today